Ven. Lama Zasep Rinpoche teachings schedule Saka Dawa (Vesak) on May 30-June 1st 2023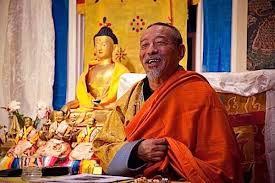 Gaden Samdrupling Monastery is very excited to announce visit of highly respected Buddhist teacher Venerable Lama Zasep Rinpoche. During this visit Ven.Rinpoche will offer the Medicine Buddha initiation and teachings on Samantha (Mindfulness) and Eight Verses of Mind Training Teaching.
Most Venerable Zasep Tulku Rinpoche was born in 1948 in the eastern province of Kham, in Tibet. He has now been teaching in the west for over twenty-two years. He studied with many renowned teachers including Trijang Dorje Chang, Kyabje Zong Dorje Chang etc. His understanding of western culture and excellent English makes him much appreciated by his students. He is spiritual director of more than twelve Buddhist meditation centers in Canada, Australia, and the United States. When he's not leading a very active teaching schedule he divides his personal time between Nelson, BC, and Toronto, Ontario.
Samadhi (Mindfulness) Meditation Practice Teaching
This form of meditation is an effective technique for training the mind to remain peaceful and focused. The benefits of a calm mind last well beyond the meditation session; it helps us attain peace in our everyday life and be more productive in every activity we perform.
Date: Tuesday, May 30 2023
Time: 7 PM
Eight Verses of Mind Training Teaching
The foundation of Buddhism is compassion for all beings. The Eight Verses of Mind Training, or lojong, teaches practitioners how to cultivate a mind of compassion. This instruction offers a method for transforming adversity into an opportunity for spiritual growth.
Date: Wednesday, May 31 2023
Time: 7 PM
Healing (Medicine) Buddha Initiation
The Medicine Buddha initiation is an introduction to this enlightened being who can help us address and deal with the health challenge in order to live a longer and fuller life. There are some prerequisites for receiving this initiation.
Prerequisites: Refuge vows, Bodhisattva vows, and Guru Samaya
Date: Thursday June 1 2023
Time: 7 PM
Location for all events:
Gaden SamdrupLing Monastery
3046 Pavlova Drive
Cincinnati Ohio 45251
Phone: 513-385-7116
All teachings are offered free of charge. Donations are welcome to support the teachings. There will be an opportunity to make offerings or sponsoring a teaching in honor of some one or your self. If you have any questions about this or the events, please email gsl@ganden.org